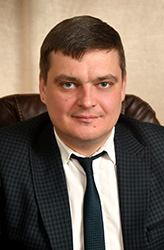 Dear friends!
Saratov State Medical University named after V. I. Razumovsky is a modern innovative educational institution, which is proud of its glorious history and continuous dynamic development.
Over the years of its history the university has gone a long way and become one of the leaders of higher medical education in the Russian Federation, the alma mater of pleiades of outstanding prominent doctors, scientists and healthcare administrators. Saratov Medical University acts as the generator of scientific thought, energy source for scientific schools, which have become part of the history of medical science and continue to develop modern scientific research and innovative projects.
Today Saratov State Medical University offers high-quality educational services in all spheres of modern medicine and is in the top 100 of higher educational institutions of Russia. The university collective's major aim is to provide students with elite professional education and help them to become high class professionals. The university intensively develops its research resources, its scientists are involved in breakthrough innovative projects. The university's clinical centre is developing alongside with the dynamic development of modern medicine and is constantly implementing high-tech diagnostic and treatment methods into clinical practice. The administration and faculty's efforts are aimed at university's transition to the model of the third generation university. It is our major goal to see Saratov State Medical University as the leader in the development of educational technologies, multidisciplinary scientific research, intersectoral scientific research, effective international cooperation and global-level scientific innovations.
The doors of SSMU n.a. V. I. Razumovsky are always open for those who see their calling in pursuing one of the most noble professions in the world, which is aimed at saving human health and life!
Rector of Saratov State Medical University named after V. I. Razumovsky
Andrei V. Eremin